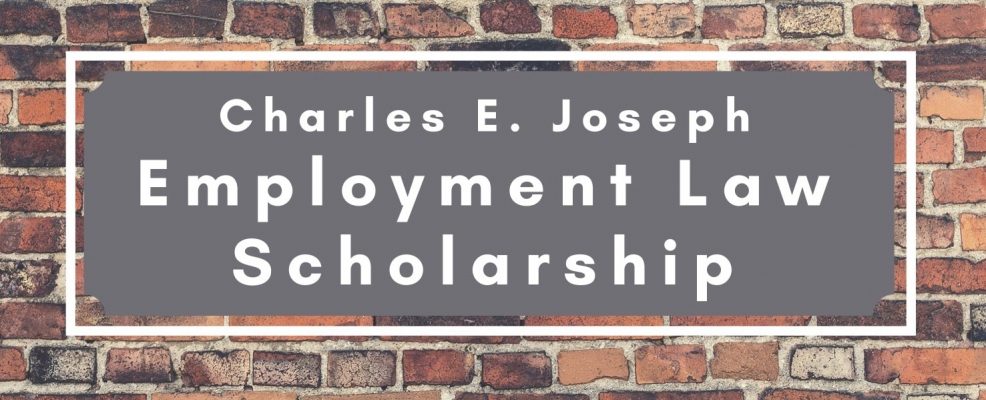 WNT Announces 2022 Scholarship Winner
June 15, 2022
---
Genevieve Carlton, Ph.D.
The Charles E. Joseph Employment Law Scholarship awards $1,000 to a law student preparing for a career as a plantiffs' employment lawyer. 
Working Now and Then awarded the fourth annual Charles E. Joseph Employment Law scholarship in June 2022. The $1,000 scholarship, which supports law students considering careers in plaintiffs' employment law, will go to Paulyna Garcia for the 2022/2023 academic year.
Paulyna Garcia recently earned a bachelor's degree in civil engineering from the University of Nevada, Las Vegas. She has volunteered with the Clark County Law Foundation and worked as a paralegal for a Nevada law firm. Garcia also served as the College of Engineering Senator for the UNLV student government.
In the fall of 2022, Garcia will attend William S. Boyd School of Law at the University of Nevada, Las Vegas.
"Attending law school has been my dream for a very long time and I have done everything possible to stay on that path," Garcia says.
Many highly qualified current and incoming law students submitted applications for the 2022 scholarship cycle. The scholarship asks applicants to write an essay on the biggest challenge facing workers' rights. Garcia focused on the challenges of AI in hiring practices.
Garcia's essay stood out for its critique of emerging workplace practice. As Garcia notes, the use of AI in screening resumes can perpetuate discrimination and create new barriers for workers. New laws like the one recently passed in New York City offer a key way to protect workers' rights. The essay will be featured on the Working Now and Then blog.
Working Now and Then awarded the $1,000 scholarship to support Garcia as she pursues her law degree at UNLV. "This scholarship will allow me to further my education by giving me the opportunity to focus more of my attention and efforts on law school instead of worrying about expenses," says Garcia.
The scholarship, named for Working Now and Then founder Charles Joseph, supports future employment lawyers and attorneys fighting for human rights. It also recognizes exceptional law students with bright futures in the field. 
In 2022, the scholarship committee also recognized runner-up Caiti Hall, who will attend Berkeley Law in the fall. Hall's essay focused on the issue of unionization, drawing on her personal experience organizing a union in the Wing Luke Civil Rights Division of the Washington State Attorney General's Office. 
Hall, who graduated with a degree in Global Development Studies and Politics from the University of Virginia, plans to become a public interest attorney.
The WNT Blog will publish essays from winner Paulyna Garcia, runner-up Caiti Hall, and several honorable mentions. The series, titled Law Students on Workers' Rights, will begin publication in June 2022. 
In addition to the law student scholarship, the Working Now and Then Undergraduate Scholarship will award a $1,000 scholarship to an undergraduate student considering a career in employment law in December 2022.
---
Working Now and Then is a resource on workers' rights. Charles Joseph, the founder of Working Now and Then, also founded the New York employment law firm Joseph & Kirschenbaum.