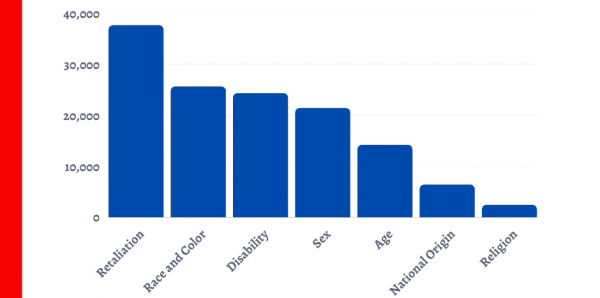 EEOC Data Reveals Most Common Types of Workplace Discrimination
March 15, 2021
---
Retaliation ranks as the most common form of workplace discrimination–but why?
Genevieve Carlton, Ph.D.
Workplace discrimination happens in every industry. Discrimination on the basis of sex, race, disability status, or age effect tens of thousands of workers every year. But what's the most common form of discrimination in the workplace?
The U.S. Equal Employment Opportunity Commission (EEOC) investigates accusations of workplace discrimination in the private sector, state and local government, and the federal government. Each year, the EEOC reports data on its claims and the amount recovered for victims of workplace discrimination.
In 2020, the EEOC reported on the most common form of discrimination out of tens of thousands of EEOC complaints. The top spot wasn't racial discrimination or sex discrimination––it was retaliation.
The Most Common Types of Discrimination in the Workplace
In Feb. 2021, the EEOC released data on more than 67,000 workplace discrimination claims filed in 2020. The data showed a clear frontrunner for the most common type of discrimination. 
More than half of all discrimination claims filed with the EEOC included an accusation of retaliation. 
Retaliation made up nearly 56% of all claimed filed with the agency, followed by race and color discrimination at 38%, disability at 36%, and sex at 32%.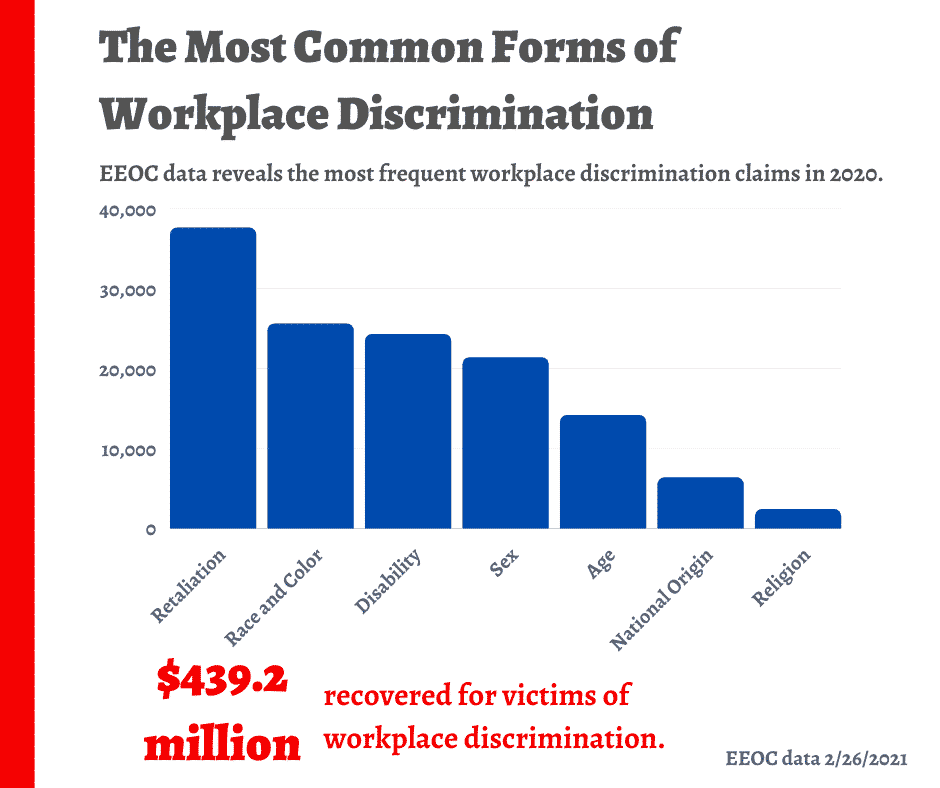 Other common discrimination claims included age discrimination (21%), national origin discrimination (10%), and religious discrimination (4%).
The total percentage adds up to over 100% since victims of discrimination can file charges alleging multiple forms of discrimination. 
In 2020, the EEOC recovered $439.2 million for victims in the private sector and in state and local government. The agency's total discrimination recovery for 2020 exceeded $535 million. The EEOC recovered this money through mediation and litigation. 
What is Retaliation?
In EEOC complaints, retaliation means punishing an employee or job applicant for complaining about discrimination or harassment. 
What does that mean in practice? If an employee files a complaint with HR or the EEOC, their employer cannot fire them in retaliation. Similarly, employers cannot mistreat employees for requesting an accommodation in the workplace or requesting salary information to uncover wage discrimination. 
These actions all fall under "protected activity" rules. Other protected activities include being a witness in a discrimination investigation, complaining to a supervisor about discrimination, and refusing discriminatory orders. 
Even in cases where the protected activity was untrue, retaliation laws apply if the employee had a reasonable and good faith belief that the complaint was true.
EEOC laws protect employees from retaliation. However, there are limits to retaliation protections. 
Employers can fire or reprimand workers for non-retaliatory reasons. For example, giving an employee a negative performance evaluation can be retaliatory or non-retaliatory, depending on the circumstances. An employment lawyer can help victims of retaliation understand their rights.
For more, learn about retaliation protections in New York or check out our Workers' Rights FAQ on What is Retaliation? 
Complaints With Multiple Types of Discrimination
When victims of discrimination file a complaint with the EEOC, they can list multiple types of discrimination.
This helps explain why retaliation appears in more than half of 2020 EEOC complaints. Employees face discriminatory treatment because of their race, disability status, gender, or another protected category. However, in each of these types of discrimination employees can experience retaliation. 
Charlotte A. Burrows, the EEOC Chair, notes that the pandemic and recession have hit certain groups particularly hard. "The current pandemic is not only a public health crisis and an economic crisis—it's also a civil rights crisis," Burrows said in an EEOC statement. 
"COVID-19 and its economic fallout is disproportionately impacting people of color, women, older workers, individuals with disabilities, and other vulnerable workers, and that impact has serious implications in the workplace."
These vulnerable workers are often more likely to experience retaliation for speaking up about discrimination. Similarly, data on workplace sexual harassment by industry shows that vulnerable workers are more likely to experience harassment at work.
Filing an EEOC Complaint
How can victims of workplace discrimination file an EEOC complaint? You can file a complaint on the EEOC site, submit a complaint in writing, or call the EEOC.
Federal laws set a statute of limitations to file your complaint. In many cases, victims must file with the EEOC within 180 days. Some states, including New York, offer longer statutes of limitation.
After you submit an EEOC complaint, the EEOC conducts an investigation and opens a mediation with your employer. If the EEOC cannot resolve the dispute, it may file a lawsuit on your behalf. Victims can also file their own lawsuits against their employers.
An employment lawyer can help you navigate the process of filing the complaint and pursuing litigation.
Learn more about the process of filing an EEOC complaint. In New York, victims of discrimination at work have additional options to file a discrimination complaint. 
---
Working Now and Then was founded by Charles Joseph, who brings over two decades of experience in employment law. He is the founding partner of Joseph and Kirschenbaum, a firm that has recovered over $140 million for clients.
Contact Working Now and Then for a free consultation to find out if you have a claim.