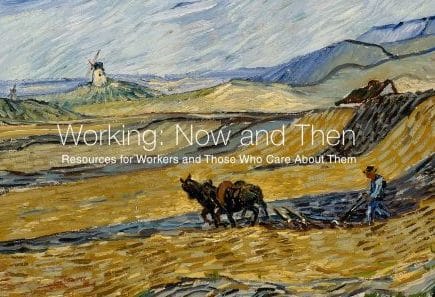 Working Now And Then Announces Employment Law Scholarship
November 7, 2018
---
Genevieve Carlton, Ph.D
In 2019, Working Now and Then will offer the Charles E. Joseph Employment Law Scholarship for the first time. Named for Charles E. Joseph, founder of Working Now and Then, the annual scholarship offers $1,000 to a law student preparing for a career as a plaintiffs' employment lawyer.
Charles E. Joseph became an employment lawyer after graduating from NYU's School of Law in 1990. For several years, Charles worked for a major Wall Street firm. In 1997, he founded Joseph & Kirschenbaum, a plaintiffs' employment law firm dedicated to helping workers harmed by unfair employment and wage practices.
In over two decades, Joseph & Kirschenbaum has recovered more than $120 million for their clients. With a focus on wage theft, discrimination, sexual harassment, and retaliation, the firm's major victories include high-profile victories against Fortune 50 companies and top restaurants. The firm has been praised by U.S. district judges as "the best in breed of firms doing this kind of work" (S.D.N.Y. 2015) and "particularly impressive [because of] "their integrity, clarity . . . and the doggedness with which they pursued relief for their clients" (E.D.N.Y. 2016).
The Charles E. Joseph Employment Law Scholarship recognizes Charles's decades as a successful plaintiffs' employment lawyer by supporting law students studying employment law. Law students either attending or accepted into an ABA-accredited law school are eligible for the scholarship. Applicants for the scholarship submit a 750-word essay on the biggest challenges facing workers' rights.
The scholarship committee, including Charles E. Joseph, will evaluate applicants on their academic record, future career promise, and the originality and persuasiveness of the essay. The winning essay and honorable mentions will be published on the Working Now and Then site.
The application form will be available on the Charles E. Joseph Employment Law Scholarship page starting on January 1, 2019. Applicants must submit their materials by May 1, 2019, and the committee will announce the winner and any honorable mentions by May 15, 2019.
For more information, visit the Charles E. Joseph Employment Law Scholarship page or contact Working Now and Then.