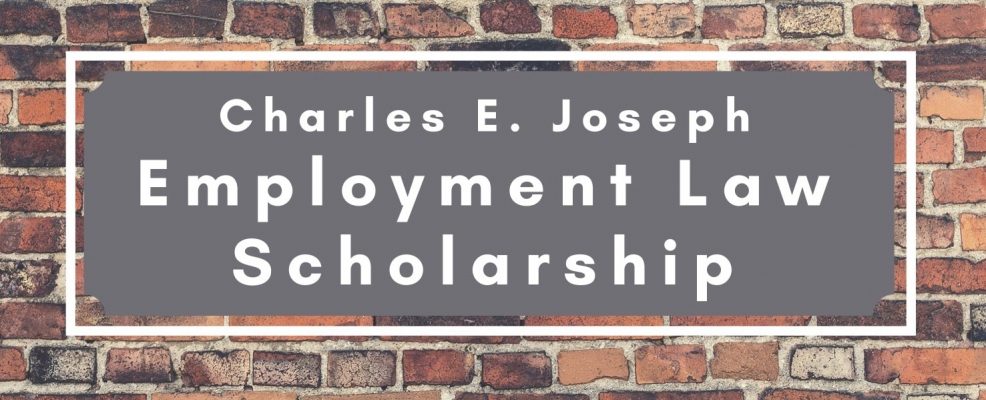 Charles E. Joseph Employment Law Scholarship
---
$1,000 Scholarship for Law Students
Charles E. Joseph has dedicated his career to fighting for workers' rights as a plaintiff's employment lawyer. His work has protected victims of discrimination, sexual harassment, and wage theft. Charles E. Joseph founded Joseph & Kirschenbaum LLP, a New York firm that has recovered more than $140 million for workers. He also created Working Now and Then, a resource on employment law and worker's rights.
In order to encourage future employment lawyers, the Charles E. Joseph Employment Law Scholarship awards $1,000 annually to a law student who plans to work in plaintiff's employment law.
In addition to the law student scholarship, Working Now and Then also offers an undergraduate scholarship. Visit the Working Now and Then Undergraduate Scholarship page for more information.
Eligibility guidelines:
Applicants must be currently attending or accepted to an ABA-accredited law school.

Applicants must upload an unofficial law school transcript or a copy of their admission letter, plus a resume or CV.

All applicants must submit an original 750-word essay.
Application Process:
Applicants should use the form at the bottom of this page to submit proof of admission for incoming law students, unofficial law school transcripts for current students, a resume or CV, and their 750-word essay. After submitting, applicants will receive a confirmation email.
Charles E. Joseph and his team will review the submissions and evaluate applicants on the basis of academic merit, future career promise, and the originality and persuasiveness of their essay.
The winner and honorable mentions will receive email notification by May 15.
750-word essay guidelines:
Applicants should submit a 750-word essay on the following topic: "What are the biggest challenges facing workers' rights in the future?" The essay can consider current events, recent case law, social movements, historical developments, or any other aspect of workers' rights. Working Now and Then will publish the winning essay and honorable mentions on its site.
The application window for the 2023 Charles E. Joseph Employment Law Scholarship will be open until May 1, 2023. Winners will be notified by May 15, 2023. 
Submit your application below.
Feel free to add a brief cover letter introducing yourself. The submission form only accepts pdfs for your law school transcript or admission letter, resume, and essay.
If you do not receive a confirmation email within 3 days or you are unable to submit via the form, contact us directly at info@workingnowandthen.com.