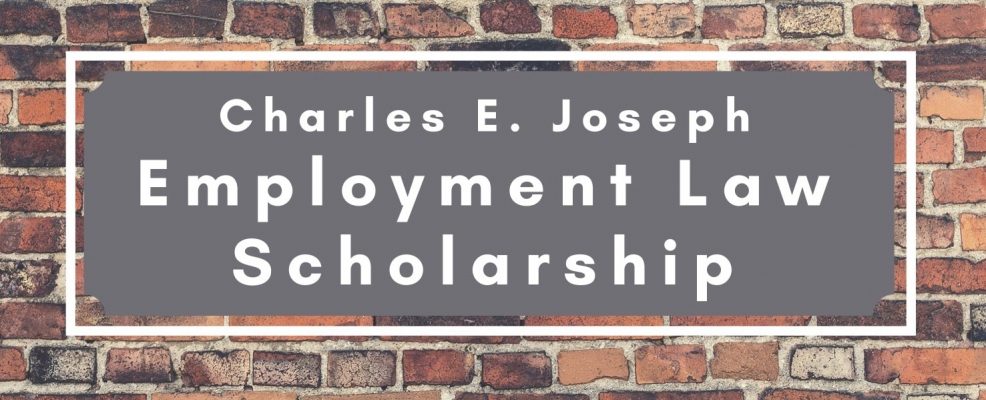 Working Now and Then Announces 2021 Employment Law Scholarship Winner
May 17, 2021
---
The Charles E. Joseph Employment Law Scholarship awards $1,000 to a law student preparing for a career as a plaintiffs employment lawyer. 
Genevieve Carlton, Ph.D.
Working Now and Then awarded the third annual Charles E. Joseph Employment Law scholarship in May 2021. The $1,000 scholarship supports law students considering careers in plaintiffs employment law. Reagan Tillery won the scholarship for the 2021/2022 academic year.
Tillery earned her bachelor's degree in political science and Africana studies at Mercer University. Her legal experience includes two years of mock trial membership, administrative positions in several law offices, and internship experience with a county magistrate court and the office of the circuit public defender in Georgia. 
In the fall of 2021, Tillery will attend Howard University School of Law. "I aspire to become a public interest attorney, specifically working with non-profit organizations. This aspiration spawned from the realization that America is in dire need of criminal justice reform," Tillery says.
Many highly qualified current and incoming law students submitted applications for the 2021 scholarship cycle. The scholarship asks applicants to write an essay on the biggest challenge facing workers' rights. Tillery impressed the committee with her essay, which examined the challenges of limited liability shields in the COVID-19 era. 
Tillery's essay stood out for taking on a current issue in employment law and providing compelling analysis on protecting workers' rights. The essay will be featured on the Working Now and Then blog.
Working Now and Then awarded the $1,000 scholarship to support Tillery as she pursues her law degree at Howard. "I chose to study at Howard University School of Law because of their immense history of fighting for the rights of marginalized groups," Tillery says, "and I believe obtaining my J.D. from Howard will equip me to be a change agent for a broken criminal system."
The scholarship, named for Working Now and Then founder Charles Joseph, aims to support future employment lawyers and attorneys fighting for human rights. 
The Lawyer's Committee for Human Rights honored Charles Joseph for his pro bono work securing political asylum for refugees from Pakistan, Sudan, and Ukraine. He also played a central role in helping the family of a Haitian rural organizer enter the U.S. and advocated pro bono for indigent tenants. 
"My dream would be to work for organizations like the Equal Justice Initiative or the Innocence Project representing indigent defendants and advocating reform through strategic litigation," Tiller says. "This scholarship will aid me in my pursuit by helping to offset the cost of attending law school."
Working Now and Then also recognized runner-up Clavey Robertson, who will attend UC Hastings in the fall. Robertson's essay focused on the restrictions on collective bargaining in an era of skyrocketing worker productivity.
Robertson, who graduated with a degree in U.S. labor history from UC Berkeley, emphasized the problems of income inequality and declining unionization rates in his essay. 
The Working Now and Then Blog will publish essays from winner Reagan Tillery, runner-up Clavey Robertson, and several honorable mentions. The series, titled Law Students on Workers' Rights, will begin publication in late May 2020. 
Last year's winner, Alyssa-Rae McGill, is a rising 2L at Syracuse University College of Law in the fall. At the end of her 1L year, McGill reports, "My first year of law school has been going very well so far, and I cannot thank you enough for the financial support and vote of confidence before I started."
In addition to the law student scholarship, the Working Now and Then Undergraduate Scholarship will award a $1,000 scholarship to an undergraduate student considering a career in employment law in December 2021.
Working Now and Then is a resource on workers' rights. Charles Joseph, the founder of Working Now and Then, also founded the New York employment law firm Joseph & Kirschenbaum.