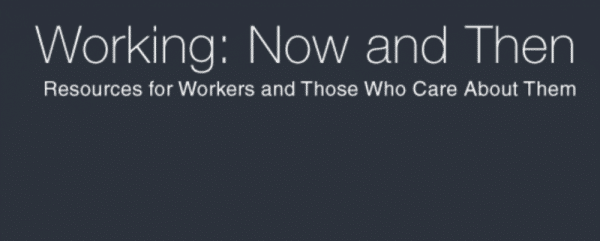 Working Now and Then Announces 2020 Employment Law Scholarship Winner
May 22, 2020
---
The Charles E. Joseph Employment Law Scholarship awards $1,000 to a law student preparing for a career as a plantiffs' employment lawyer. 
Working Now and Then awarded the second annual Charles E. Joseph Employment Law scholarship in May 2020. The $1,000 scholarship, which supports law students considering careers in plaintiffs' employment law, will go to Alyssa-Rae McGinn for the 2020/2021 academic year.
McGinn works as a Title IX and sexual misconduct investigator, a role where she also trains civil rights investigators. She also founded SAFE NYC, a group that supports immigrant communities through political advocacy and community engagement.
"Advocating for and helping others has always been important to me," says McGinn, "and I want to focus my career on ensuring that everyone is able to feel safe and accepted. In my current work as a Title IX and Civil Rights investigator, I am able to provide compassionate and thorough responses to reports of identity-based violence, but my dream is to become an attorney so that I can directly advocate for the rights of others."
In the fall of 2020, McGinn will attend Syracuse University College of Law. "I am so excited to be able to attend law school so that I can devote my career to making the world more welcoming and affirming for everyone," McGinn says. 
A field of highly qualified applicants submitted essays to Working Now and Then describing the biggest challenges facing workers' rights as part of the 2020 scholarship cycle. McGinn impressed the committee with her essay, which explored the challenges to disabled workers' rights in the wake of the COVID-19 pandemic.
McGinn's essay stood out for tackling a growing challenge for workers and offering compelling solutions to protect their rights. The essay will be featured on the Working Now and Then blog.
Working Now and Then awarded the $1,000 scholarship to cover educational costs as McGinn pursues her law degree at Syracuse. "I am so grateful and honored to have been selected for the 2020 Charles E. Joseph Employment Law Scholarship," says McGinn. "This generous award will go a long way toward helping me afford my first year of law school!"
"The support and encouragement from Charles and Working Now and Then have affirmed my professional goal to help others and have made me more confident that I can achieve success in law school and beyond," McGinn says. 
Working Now and Then also recognized runner-up Precious Penny, who will attend Georgetown University in the fall. Penny stood out for her work with the Federal Communication Commission, where she establishes and implements agency-wide Equal Employment Opportunity policies. 
Penny's essay impressed the committee for its nuanced argument on the detrimental effects of workplace discrimination.
Working Now and Then will publish McGinn's essay, along with essays from Precious Penny and several other applicants, on its blog. The series, titled Law Students on Workers' Rights, will begin publication in late May 2020. 
This year the scholarship committee received a number of insightful and compelling essays on the impact of COVID-19 on workers' rights. The Working Now and Then blog will also feature a series called COVID-19 and Workers' Rights featuring several of these essays.
In addition to the law student scholarship, the Working Now and Then Undergraduate Scholarship will award a $1,000 scholarship to an undergraduate student considering a career in employment law in December 2020.