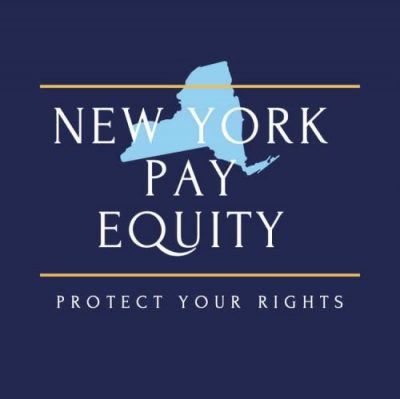 Race, Gender, and the New York Pay Equity Law
October 1, 2021
---
New York's Law Tackles Wage Discrimination – and the Pay Gap
Equal work for equal pay. That's the law in most states. But in New York, the pay equity laws go even further. Employers must pay the same wages for "substantially similar work," even if the two employees have different job titles. 
The New York Pay Equity Law, which went into effect in 2019, provides a powerful weapon to combat the gender pay gap and the racial wage gap. It also provides quadruple damages for victims of discriminatory pay.
The New York Pay Equity Law
Before 2019, New York law required equal pay for equal work. But in Sept. 2019, Gov. Cuomo signed a new law into effect that would change that language. The New York Pay Equity Law of 2019 instead requires equal pay for "substantially similar work."
The pay equity law requires the same pay for "substantially similar work, when viewed as a composite of skill, effort, and responsibility, and performed under similar working conditions."
The law also applies to a broader category of employees. While many equal pay laws target the gender wage gap, New York's law also covers other protected classes. For example, the law protects employees based on their race, age, disability status, gender identity, sexual orientation, and marital status.
Other protected groups include members of the military and parents. 
Employers cannot avoid the pay disparity law by calling one employee a "senior specialist" and another a "junior specialist" to justify paying a member of a protected class lower wages. Instead, if the jobs have largely the same responsibilities and require the same skills, employees must earn equal wages. 
In 2020, New York added a salary history ban to its worker protection laws. Like the pay disparity law, the salary history ban targets the wage gap and pay discrimination.
Legal Wage Differentials
In New York, employers can offer different salaries to employees. However, they must base these decisions on legal causes rather than discriminatory ones. 
For example, employers can pay one employee more than another because of seniority, even if their job responsibilities overlap. They can also institute a merit system to increase the salary of some employees over others. This includes systems that tie earnings to sales, production numbers, or measurable quality.
Finally, factors like education, prior work experience, and training can also justify offering different salaries. However, employers must prove that the salary difference comes from a job-related qualification. For example, employers cannot offer a former fraternity member a higher salary than his female coworkers because he was in a college fraternity. 
In some cases, these legal policies might negatively impact members of a protected class. Employers must adopt an alternative method of assessing pay that does not harm protected employees if available. 
New York Pay Equity Law Damages
New York law offers one of the longest statutes of limitation for equal pay claims in the country. In New York, employees can file a wage discrimination claim for up to six years. 
The law also provides generous damages payments to employees who face discriminatory pay. Under New York labor law, employees who prove pay discrimination receive unpaid wages equal to the amount they were underpaid. The law also grants 300% liquidated damages for employers who willfully violate the law.
That means employees can receive four times the amount they were underpaid in back pay and damages. In addition, employees can receive attorneys' fees.
Examples of New York Pay Equity Law Damages:
A woman made $20,000 less than a male colleague who performed substantially similar work for a three-year period. Under the New York Pay Equity Law, she would receive $60,000 in unpaid wages plus $180,000 in liquidated damages for a total of $240,000. 

A Black man made $30,000 less than a white coworker, even though they had the same job responsibilities and skills. Under the New York Pay Equity Law, he would receive $30,000 in unpaid wages plus $90,000 in liquidated damages for every year he was paid less.

An employer consistently underpaid employees with disabilities even when performing similar work to coworkers without disabilities. Each employee with a disability made $15,000 less per year. Every employee who was underpaid because of their disability would receive $15,000 in unpaid damages and $45,000 in liquidated damages for each year they were underpaid.
A New York employment lawyer can help victims of wage discrimination file a lawsuit.
Filing a Pay Disparity Lawsuit and Proving Discriminatory Pay
New York employees can file a lawsuit if their employer paid them lower wages for the same work as other employees. But how can you file a pay disparity lawsuit? And how do you prove discriminatory pay?
Evidence like paystubs, performance reviews, and job descriptions can help prove wage discrimination. Contact an employment lawyer for help filing a lawsuit and recovering damages for compensation discrimination.
---
Working Now and Then was founded by Charles Joseph, who brings over two decades of experience in employment law. He is the founding partner of Joseph and Kirschenbaum, a firm that has recovered over $140 million for clients.
Contact Working Now and Then for a free consultation to find out if you have a claim.