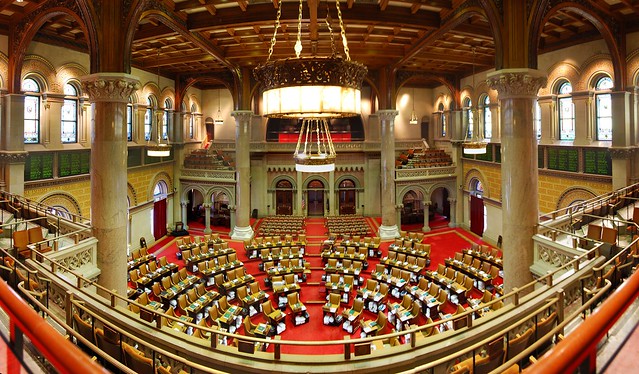 What New York's Sweeping Employment Law Changes Mean For Workers
June 28, 2019
---
by Charles Joseph
On June 19, 2019, New York's state legislature passed sweeping changes to the state's employment laws. The updates include stronger protections against workplace discrimination and sexual harassment. What do these changes mean for workers in New York?
The new law, expected to be signed by Governor Andrew Cuomo, significantly strengthens the state's workplace protections. The changes dramatically update the New York State Human Rights Law (NYSHRL), expanding its legal safeguards and increasing the number of New York workers protected by the law. Senate Majority Leader Andrea Stewart-Cousin says, "This legislation works to close loopholes, extend the statute of limitations, and ensure that sexual harassment policies are clear for all employees across the public and private sector."
The NYSHRL protects workers from discrimination or harassment based on age, gender, race, national origin, sexual orientation, disability, and other protected characteristics. The New York legislature enacted these sweeping changes to eliminate the "significant and unwarranted legal barriers" that stood in the way of workers seeking justice for employer wrongdoing. 
The changes bring the state's workplace discrimination and sexual harassment laws in line with many of New York City's protections in the NYCHRL, which remain some of the strongest in the nation. Most critically, the amendments eliminate the so-called "severe or pervasive" standard used by federal discrimination laws. Under the old law, harassment had to reach the level of severe or pervasive to violate the NYSHRL. The new law outlaws harassment that merely subjects employees to "inferior terms, conditions, or privileges of employment" because of their membership in a protected class, adopting New York City's standard that harassment must go beyond "petty slights or trivial inconveniences."
But the amended New York State law goes well beyond even the extraordinarily liberal provisions of New York City law, because far more workers will receive protections under the updated NYSHRL. First, while the old discrimination law only covered employers with four or more employees, the new protections apply to all employers (except the federal government), including licensing and employment agencies and labor unions, regardless of the number of employees. This means an individual who employs or contracts with a single worker is considered an "employer" under the law and can be liable under the NYSHRL. A similar expansion was made for victims of sexual harassment in a law enacted last year.
More striking yet, the discrimination laws now apply to workers not classified as employees, including 
independent contractors

domestic workers

consultants 

subcontractors 

vendors
The discrimination laws also apply to anyone else providing contracted services to an employer. In short, the number of people and situations covered by the new law is vastly larger than previously. 
This change to the NYSHRL protects an expansive group of workers besides traditional employees. Now, courts will hold employers liable for discrimination or sexual harassment if the employer or its agents knew––or should have known––about the discrimination or sexual harassment within the workplace against, not just employees, but nearly all workers. That greatly expands the anti-discrimination protections under the NYSHRL by covering essentially all service providers, rather than just those traditionally classified as employees. 
The state law's expanded protections for independent contractors and freelancers builds on new legal safeguards enacted over the last few years. In 2017, New York City passed the Freelance Isn't Free Act, which guarantees freelancers timely payment and offers double damages for nonpayment or late payment. In 2018, New York included independent contractors under the umbrella of laws protecting employees from sexual harassment. This year, the amended state law expands protections against employer discriminatory practices to specifically include independent contractors. 
The updated NYSHRL also expands the damages available for victims of sexual harassment and discrimination. Workers who successfully sue their private employers for discrimination or sexual harassment under the NYSHRL can now seek punitive damages and attorney's fees, neither of which were allowed under the old law. Emotional distress awards are also available. The change will likely mean larger damage awards for victims of workplace harassment.
Also, once a sexual harassment or discrimination claim reaches the court, employers can no longer avoid liability by claiming the victim failed to use the employers' complaint procedures. Now, victims who did not report harassment in the workplace for fear of retaliation can still protect their rights.
New York's legislature orders courts to interpret the NYSHRL liberally in favor of the victimized worker. This places more power in the hands of the targets of discrimination and sexual harassment. Similarly, the law instructs courts to narrowly interpret any exemptions to the NYSHRL, further increasing the law's power to protect workers. 
Under the new law, employers can no longer force employees into mandatory arbitration for discrimination and sexual harassment claims. Similarly, employers cannot force employees into non-disclosure agreements that ban them from speaking about sexual harassment or discrimination. That means victims of sexual harassment and discrimination will get their day in court. 
The updates to New York state's laws mean stronger protections for workers in multiple ways. Victims of workplace sexual harassment, for example, will have three years to file their with the New York State Division of Human Rights. Discrimination claims, however, still must be filed with the agency within one year of the discriminatory act. Under existing law, workers have three years to file their discrimination and sexual harassment claims in court.
Some of the bill's stronger employment protections go into effect immediately when Governor Cuomo signs the law, while others take effect 60 days or 180 days after signing. The new law's expansion of the statute of limitations from one year to three years takes effect one year after signing.
For workers in New York, the employment law changes mean much stronger protections against workplace discrimination and sexual harassment. "With this legislation, employers across all sectors will be held accountable for addressing all forms of sexual harassment and discrimination in the workplace," Senator Alessandra Biaggi says. 
The new NYSHRL will cover many more workers, offering protections for contractors and freelancers who were not previously protected. It also provides stronger enforcement and education mechanisms, including requiring employers to provide a notice of their sexual harassment prevention policies to all employees in their primary language, which they are to receive upon hiring and again during the employer's annual sexual harassment training. 
When the law takes effect, workers will see immediate benefits from the sweeping new protections. 
Charles Joseph has over two decades of experience in employment law. He is the founder of Working Now and Then and the founding partner of Joseph and Kirschenbaum, a firm that has recovered over $120 million for clients.