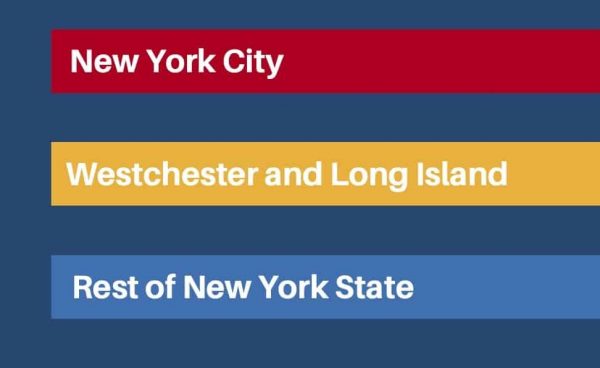 New York's New Employment Laws for 2021
January 6, 2021
---
by Genevieve Carlton, Ph.D
A minimum wage increase, a new paid sick leave policy, and longer paid family leave that will help workers in 2021
The new year has brought some important changes for employees in New York. The state's minimum wage increased, a new paid sick leave policy went into effect, and the state's paid family leave policy now covers workers for longer. 
If you're not on top of your legal rights, you might miss out on unpaid wages or paid leave. 
Here are the new employment laws you should know about for 2021.
New York Minimum Wage Increases in 2021
New York state has been increasing the minimum wage annually since 2016 with the goal of a statewide $15.00 minimum wage. 
As of 2020, all New York City employers must pay a $15 minimum wage, regardless of size. 
In 2021, the minimum wage in Westchester County and Long Island increased to $14.00 per hour, up from $13.00 per hour in 2020. 
In the rest of New York state, workers must receive at least $12.50 per hour. The New York minimum wage laws include exceptions for service workers compensated with tips.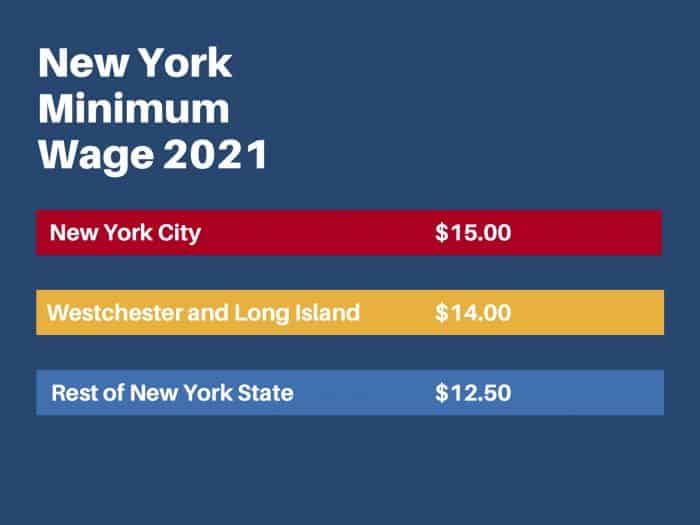 If your employer pays less than the new minimum wage, you can file a complaint with the New York State Department of Labor. You can also contact an employment lawyer to discuss your legal options, including suing for unpaid wages, overtime, and back pay. 
If you receive less than minimum wage, you may have a wage theft claim. Learn more about New York minimum wage laws and the laws for tipped workers. 
Paid Sick Leave in 2021
In 2020, New York passed a new law guaranteeing paid sick leave for private-sector employees. Sick leave started accruing on Sept. 30, 2020. As of Jan. 1, 2021, employees can begin to use their paid sick leave. 
The law provides a different amount of sick leave depending on the size of the employer. Businesses with under five employees who report earnings of under $1 million per year must provide up to 40 hours of unpaid sick leave each year. 
Paid sick leave kicks in for smaller companies with over $1 million in net income, with 40 hours of paid leave for employees at companies smaller than 100 employees.
Larger companies, defined as those with more than 100 employees, must provide 56 hours of paid sick leave. 
New York also passed COVID-19 paid leave in April 2020, which offers paid leave and financial compensation to workers who must quarantine or isolate because of the pandemic. 
Paid Family Leave in 2021
The New York State Paid Family Leave Act (NYPFL) began offering 10 weeks of paid leave in 2019. That will increase to 12 weeks in 2021. 
In addition to a longer leave, employees can receive a higher percentage of their salary thanks to a 2021 change to NYPFL. Before, the law capped wage replacement at 60% of average weekly earnings. In 2021, the cap increases to 67% — with a maximum weekly total of $971.61.
Employees denied paid family leave and those who face discrimination or retaliation for using leave can file a lawsuit.
Learn more about NYPFL and retaliation protections. 
Reporting Employment Law Violations
If your employer violates minimum wage or paid leave laws, you may be eligible for back pay, unpaid wages, and damages. For example, if your employee terminates you for requesting leave under NYPFL, you can receive your job back, along with lost wages, attorney's fees, and penalties. 
An employment lawyer can provide advice on your legal remedies. 
---
Working Now and Then was founded by Charles Joseph, who has over two decades of experience in employment law. He is the founding partner of Joseph and Kirschenbaum, a firm that has recovered over $140 million for clients.
Contact Working Now and Then for a free consultation to find out if you have a claim.